Benefits of Booking through CourseHorse
Booking is safe. When you book with us your details are protected by a secure connection.
Lowest price guaranteed. Classes on CourseHorse are never marked up.
This class will earn you

600 points

. Points give you money off your next class!
Class Information
Class Level: All levels
Age Requirements: 18 and older
Average Class Size: 24
What you'll learn in this cheese tasting class:
Interested in an On-Site Class or Custom Program from Murray's Cheese? Request info about private training
Teacher: Murray's Faculty
See Classes Taught by This Teacher »
At Murray's, we know cheese, so who better to teach our award-winning courses than those in the cheese trenches every day? From experienced cheesemongers to wholesale directors, from our cavemaster to our Kroger field team, Murray's faculty takes cheese knowledge to a whole new level. We also host our beer, wine, and whiskey friends, as well as incredible producers of the products we're proud to feature in the shop.
Map
Refund & Cancellation Policy
All tickets to Murray's Cheese classes are nonrefundable and non-transferable to other dates. If you wish to transfer these tickets to an alternate party, please send us written communication to
[email protected]
prior to 4:00 pm on the day of the cheese course. Tickets cannot be transferred to an alternate class date
Questions about this class?
Get help now from a knowledgeable expert!
School: Murray's Cheese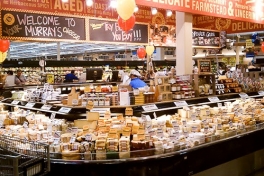 The History of New York's Oldest and Best Cheese Shop: Murray Greenberg (never met him; he died before I got here) was a Jewish Spanish civil war veteran and communist who opened a wholesale butter and egg shop a few doors up Cornelia street in 1940. The old timers tell me that even though he was an old leftie, he was still a street smart capitalist who used to buy cheese cheap and trim it and sell it. In the 70's he sold the shop to his clerk Louis Tudda, an Italian immigrant from Calabria. The old shop was used like a bodega or a Korean deli is today; not only cheese was sold but cheap oil and tomatoes to the locals, who were predominantly Italian back in '91 when I bought the shop. That's changing now. I'd left the family supermarket business in '85 to do full service specialty shops in New Jersey, where I was from. When my shop, in Princeton tanked with the crash of '87, I wound up in my brother's old apartment here in the Village (he's a lawyer and he'd moved to L.A.), wondering what to do with my life next. One day, when I was in line at the original shop, I heard Louis say he'd lost his lease and was closing. I made him an offer and moved the shop to the corner of Bleecker, where we stayed 14 years, until November '04, when we moved to our current location at Bleecker and Leroy. Frankie came with the shop; he lived around here and had been the delivery boy, then a counterman through college, and stayed here when his folks returned to the island of Malta where they were from. Louis himself worked for a year before he went back home. We'd hang out behind the counter selling cheap cheese, mostly commodity stuff bought on deal. Around ten years ago we got serious about the good stuff, and at first we couldn't sell it. Now we can't keep it in stock! The first line we got in was Neal's Yard Dairy cheese, and boy, did it sit there in the case. The old neighborhood is changing. Zito's bread, older than Murray's even (1920) is gone, and so is the pioneer of all, Balducci's up on 9th St. (Citarella's there now). But the new customers are a lot younger and hipper. We always had a good staff, though this is by far the best. I'm often grouchy, but everyone else was, and is, really very nice. Go figure. And the business grows each year. These days I can barely keep up on all the new stuff that's going on: we have a kitchen, a new web site, mail order, a gift catalog, a classroom and cheese caves. It's not quite anarchy but it's certainly not corporate. It's the Village: artists, folkies, poets, creative types have made this their home for over a century. Our shop in Grand Central even has the feel of it. The main thing is to let the customers see our passion, that's what it's all about. Turn them on to whate...
Read more about Murray's Cheese »
| | |
| --- | --- |
| CourseHorse Approved School | This school has been carefully vetted by CourseHorse and is a verified NYC educator. |
Taking this class for work? Get exclusive perks & discounts for free.